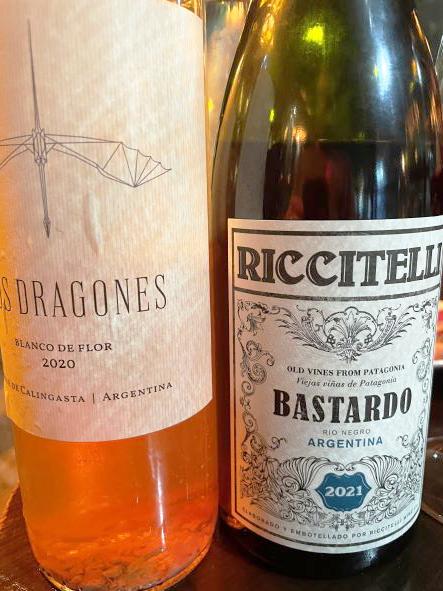 I recently spent a few days eating and drinking my way through Buenos Aires and Mendoza and came away with a few hot takes :
For many, Argentine Malbec is a gateway drug to the world of wine. Most malbecs are easily understood, there's damson plums and violets on the nose with dark fruit and supple tannins on the tongue. For new wine drinkers who like big bodied wines with a lot of fruit, this is the perfect level of complexity for an evening at home or book club. But there is a lot more to Argentine wine than just this.
The single most interesting white wine I tasted was born out of necessity due to the laws around import/export. As Inés de los Santos, owner of Cochincina, one of this year's "World's 50 Best Bars," told me, "we can't get certain ingredients or bottles, so we make them ourselves out of necessity."
For sherry lovers in a country that doesn't import sherry, the "Blanco de Flor" from Los Dragones is certainly a necessity. Organic Torrontes grapes from the Valle de Calingasta are fermented with native yeasts and spend 24 months in 225L Crianza under flor. The resulting wine retained much of the fruit and flowers that Torrontes is known for but also the oxidized nutty saline flavors of sherry.
My Argentine friends were incredibly happy to share it with me, and I loved it. 
Most of us in the wine industry stateside are aware of the big boys of Argentine wine, Catena Zapata ("White Bones / White Stones") may be the best white bottlings in the country, Bodegas Benegas (classic), Vinos Cobos, Achával Ferrer, and Luigi Bosca (also classic). When it comes to Malbec, the most likely candidate for us to bring into the shop was the organic Malbec from Luigi Bosca. It had all the classic flavors but also a bit of wildness that isn't found in most of the sanitized Malbecs that make it here. And it comes at a great price point.
The most unexpected wine I tried came at lunch on the final day. Through a stroke of luck, a friend brought out a bottle of 1988 Catena Zapata "Saint Felician" Malbec. It was gorgeous and totally changed my outlook on how long a bottle of well-stored (and especially well-made) Malbec can go. While that information is still very much held in the country, there are people who specialize in deep vintages going back decades at a bottle shop called Ligier (Instagram is @vinosguardados).
If you are in the country and love old wine, it's a must-stop in Buenos Aires.
For more oeno-research, consider giving @enofiloar a follow on Instagram to see what interesting small production bottles they are exploring.